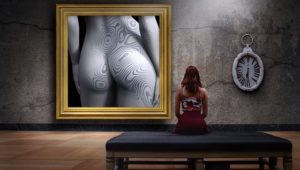 DO I LOOK FAT?
This is a question which comes up often, dreaded by western men everywhere. How do you answer this interrogation? And, is this even fair to ask of a man?
Despite all the hoopla about objectifying women, while imploring men to focus purely on their partner's "inner-worth," everywhere you find men and women this question is asked. Someone, somewhere, is posing the question today, perhaps before heading off to church with the family.
Women's concern on this issue is often laid at the feet of the supposed patriarchy. This would be where men objectifying women's bodies has ostensibly put enormous pressure on women to be the perfect avatar for male lust. Of course, well-intentioned but mistaken idealists cling to this narrative, often desperately. "It's your fault I have to even ask this question," it says.
If you ask men about this dreaded quiz (and it is not always dreaded), their answers generally fall into two camps. Denial and acceptance on one side (includes bullshit), and naked truth on the other. Both approaches have consequences.
If a man answers his gal with, "Yeah, I noticed you lost weight," even if she hasn't, he's set off her bullshit detector. You've heard the expression, "Never lie to a woman." Now he's fucked, because she knows full well she's ten pounds heavier than a month ago—probably the last time she asked this damn question!
Or, maybe he senses the trap. No fool our man, he tells her she looks perfect to him—just the way she is—and he can't see anything but her inner beauty. He thinks this gets him off the hook, and he basks in his virtue, feeling impregnable to criticism.
And, truthfully, this may seem like the romantic's answer, an exemplar for all men, salve for the female neuroticism at the core of the question. But, mostly likely, he's dead-wrong.
Hearing this, she tells herself, "You asshole," and contemptuously, "so, you think I'm fat, thanks," said declaratively, as surely as if he'd uttered the words himself.  His avoidance tipped his hand and she wasn't fooled, not one bit.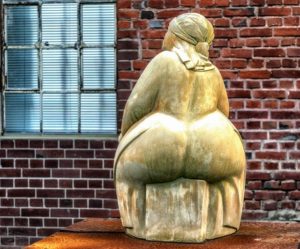 Aye, it's a litmus test this one.
Some men seize upon this scenario to introduce a little self-improvement into the marriage. One man was asked by his beloved if there was anything wrong with her. To which he nobly answered he loved her no matter what, but that she has a hunchback, probably from poor posture, and wondered if she'd like to improve how she sits at the computer to alleviate her condition.
There's discord in that household, still ongoing.
Another fella took the high road (as he saw it), and in answer to the question "Do I look fat?" responded using the infamous turnaround, the rebound, the redirect, the mirror, by asking a question in return.
"I don't know, do YOU think you look fat?" To which she answered, "Yes."
His response? "Okay, you got your answer, but it's not about what I think, it's about what you think. To me, you're normal but what you see is what matters to you. My love has no vision."
He reports, bewildered, she insists he called her fat. Poor sap.
So, what women are looking for when they ask this question is anyone's guess. The risks involved are real, as you can see. Perhaps she's looking to confirm the diet and workout plan she's been on the past week is paying off. Or, maybe she's looking for reassurance she's loved in all her glorious imperfection. Those two possibilities are pretty much the limits of most men's perceptions.
But, it could also be a setup, a way to punish a man for something he did this morning, yesterday, last week, or last year—real or imagined. The question could be her version of Firestarter, like the flint, birchbark and moss you have tucked in your combat pants when you hit the back country.
There are layers to these kinds of trick questions, and trying to discern the true motivations behind them is to descend into areas of subterfuge and feminine energy. This disadvantages most men.
If you are the sun, the stars, the fire and the light, she is the deep of space, the vastness of the oceans, the power of the wind. That about sums up what you're up against, my brothers.
There's another context we need to keep in mind when considering this question. We think we are involved as a principal player: a reasonable conclusion since we are being asked and we are usually present during the asking.  Not at all.
Fact is, she's probably not even considering you in her question. It's far more likely she's asking you what OTHERS are seeing and could care less what you think. She's already fucking you, and knows she has your loyalty.
Women tend to compete firstly with their peers, just as men compete with other men. Do you primarily compete with your wife or girlfriend? Pretty rare.
Men tend to compete above board, either heads on, "best man wins" style, or by putting someone down. One is prosocial, the other antisocial, but both approaches light up the same competitive reward areas of the brain.
Women tend to compete differently, sometimes by maneuvering covertly using mean remarks, social exclusion and by winning over each other's friends and allies.
Women can do pretty much anything a man can do but have general preferences. Whereas men tend to know many men in a diverse number of groups, and operate easily between them, not so for most women.
Our gals tend to have a small group of sisters, friends they guard jealously, usually less than five and often just one or two, and with whom they rely upon for emotional regulation. You could argue their standing among their close peers carries more risk because it also comes with more reward.
Like I said, women are deep. Men are shallow, thankfully (not said at all derogatorily).
So, the question, "Do you think I'm fat?" could just as likely mean, "Do you think OTHERS think I'm fat?" Duh. Uh-oh.
It means she's asked you how she presents to the outside world, to those she competes with on a daily basis. At his point, mentioning her hunchback means you are telling her others see her as a hunchback. How's that going to go over?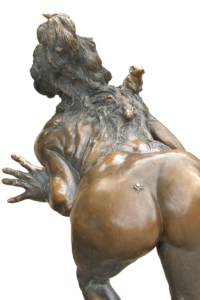 Now, to be fair, some couples can manage literal honesty between them. This kind of union exists and thrives on pain and suffering as a stepping stone to lust and bliss. If she asks a question, she's getting the truth. It goes both ways.
To these types, there is a power and trust which develops as a result of their brutal honesty. But, there is also hurt feelings. And, in every case I've witnessed, over time the man learns to soften the blow of his forthrightness as his emotional IQ blossoms under her influence. She is the power of the wind.
Now, just how does a man safely negotiate this age-old question?
You could try the finesses answer. She asks, "Do I look fat?" and you answer, "Did you get your hair trimmed, it looks great!" standing fast with smiling admiration.
It's a signal you're not answering such an asinine question, suggests you didn't even notice her body, and can only see and appreciate her overall radiance, refreshed somehow in this instance. Add in a, "you must have done that just for me," followed up by a rush to hug her powerfully. If timed right, it might get you off the hook completely.
You could also try saying, "Yes, you look fat and I hope you put on another ten pounds so I can watch that jiggle bouncing around all over upstairs when we're alone. You must have put that on for me, nasty girl," and see what happens.
But a better option when dealing with the "Am I fat" question is to say "No."
That's a powerful stance for a man to take. He sees through her classic overthink—loaded in the question like high caliber weaponry—and simply sidesteps her neediness by refusing to play by her rules.
It is him recognizing she sometimes needs to be rescued from the brink of her own insanity. As her powerful man, that's your job and you handle it with grace.
A simple, "No" and moving on to something else puts you back in control. I've been asked this question; I usually try to grab her ass as I answer.
You own your thoughts, feelings and behaviours; she owns hers. And, never the twain shall meet. Boundaries here are critical. Maintain them now and set the pattern for later.
But perhaps first ask yourself if perhaps she's asking the question because she does not feel suficiently worshipped. Check that opportunity box first. Otherwise, in the moment, the simpler the answer the better. No reason to complicate this more than needed.
Seems simple enough: Just say no
Stay powerful, never give up.
Wally
© Christopher K Wallace
Advisor to Men
Facebook