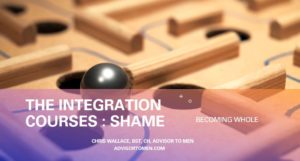 NOTE: THIS COURSE HAS A MONEY BACK GUARANTEE
TAKE THE TAMING SHAME COURSE HERE
Look, I see what you're dealing with.
You might have the feeling there is more to life than the one you have now…
Maybe you wonder why it is things can seem … SO DAMN HARD…
Or, you are just… plain misunderstood…
I mean, every time things start to go well, something messes it up…
Sometimes, that's just life. Sometimes, it's more…
Guys like us usually just double down on our efforts…
Or… we either give in or give up.
But that just makes us even more out of sync with those around us…
And that's the painful part: we all want connection
I get this: it used to be the story of my life
Everyday I see folks doing their best who just are not living up to their expectations…
Often I see them making compromises they hate themselves for…
Or failing to stand up for themselves…
I know from personal experience exactly what it feels like.
Not only that, I have seen it hundreds and hundreds of times…
I see what it does to people in my groups and in my clients.
It's super common in couples…
Almost always what is driving things, what's beneath it all …
…is a lingering sense of shame…
Shame which has followed you, probably since you were a kid.
No way that is your fault. You had no say in this one.
Kids live their environments PHYSICALLY
and it gets buried deep within us.
All you wanted was nurturance, shelter, protection, and sustenance…
Not to grow up thinking you were broken…
And even if you don't think it's THAT BAD… that might be a sign it is…
If this is remotely familiar, let me say… you were robbed.
And this doesn't get better usually. In fact, it usually gets worse over time…
Until we accept less and less because most of this operates subconsciously…
And we don't even realize we are living an old program we had no say in installing.
Until one day, you run into to someone like me…
or maybe, if you're lucky, hopefully, you figure it out on your own…
Because that's when you finally ASK YOURSELF THIS:
Did I just live these last (10-20-30) so many years?
Or did a live A VERSION OF ONE YEAR (10-20-30) so many times?
Think about that one… take a few minutes… you have come this far…
What if I told you there is an easy way out of this?
What if you knew you could spend a few hours of focused attention …?
and …Change your life forever…
No more doubt.
A return of acceptance and with that, a chance to rebuild confidence…
The outcome we're after here is this: NO HOOKS.
Nothing from the past triggering you in the present.
Think that would be worthwhile?
You betcha it is. It's the best work you'll ever do.
This is how you do it.
It's not a tear-down and a rebuild either…
This is no Re and Re: No remove and replace…
No, it's a tune-up.
It's critical high performance adjustments done while you get to know the beautiful human machine that is you.
This is how we integrate the past and the present.
This is the work we all need to do…
Join me as I walk you through the process,
And help you find your power again.
*MONEY BACK GUARANTEE
Take the course, do the exercises and the homework. If you don`t think it`s worth the price you paid, give me your feedback and I`ll refund you in full.