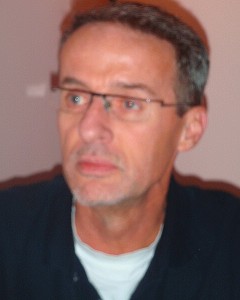 bo·na fi·des
/ˌbōnə ˈfīdēz,ˌbōnə ˈfēdāz,ˈbōnə ˌfīdz,ˈbänə ˌfīdz/
noun 1. a person's honesty and sincerity of intention.
as in: "he went to great lengths to establish his liberal bona fides"
CHRIS WALLACE, BST, CH, CPQC, ADVISOR TO MEN
Wally you are one of the rare few. You change lives, it's who you are and what you do. Bet you do it all the time. Bet there are plenty out there who are too busy telling others what you did for them to tell you. So I'll say again cos it's worth repeating. You changed my life. And brother l am very grateful for the man you are. David Tubbs, Australia, 2018
LEAVE A CONFIDENTIAL MESSAGE HERE
Chris: Thank you for your time. You've really helped me develop a different way to think about substance use and after speaking with you I feel more confident than ever that I can succeed sober in life. Your approach helped me see that I'm giving away the very confidence that I was seeking when I used. I really appreciated how you listened, encouraged and provided needed push back. You really showed up with compassion and appropriate challenges. My family and I THANK YOU for being such a positive impact. You are helping me become the best version of myself. Keep up the good work.
Lee H, USA 2018
I'm not sure what you said to my daughter in the one hour you spent with her, but to hear her tell me later "Dad, I'm so done with that whole pot thing" was amazing. As a father, I can't tell you how much I appreciated your help. It's been a couple of months since you spoke to her and she just passed a drug test she needed to get her first job. Thanks for everything.  B.W. Atlanta, GA
Chris is a one of a kind coach. He is very intelligent and knows exactly what he is doing. He listens carefully to every details and gives you best advise. He have learned a complex knowledge about mental fitness and help you being best version of yourself. The person i was before i have working with chris is a different person from which i am now. I feel stronger, high self worth, have respect for myself. M.A. Saudi Arabia
My sessions with Wallace moved the ball forward every time we talked. I'm still gleaning wisdom from them. His take on addictions really challenged me, and changed my life.

WHAT DID YOU LEARN AND HOW WILL YOU APPLY IT?

I learned that I have the power to change. I can become the man I want to be through goals and commitments. Personality traits are a thing, and they are malleable.

WHAT CAN YOU TELL OTHERS ABOUT SPEAKING WITH ME?

He's going to challenge you. And he's not going to sugar coat it. But listen up. Wallace has some wisdom to impart. It's up to YOU to decide if you want to make the changes. Cory B, USA
I learned that I had been holding myself back by seeking to fill urges that I could take care of by healthier means. I was riding the pink cloud of sobriety and if it weren't for Chris putting things into perspective, I would have fallen from it and straight into the Earth. Where it would have been harder to recover from.   Jeremy W, Massachusetts
_____________________________________
PORN ADDICTION



M, somewhere in Europe, 2021
__________________________
Schedule a call by filling out this contact form here
Life Changing
"Speaking with Chris has drastically changed my life. He's given me the perspective I need to recognize my problems and address them properly. He's given me immense clarity about how men and women are raised and helped me make connections  I otherwise would not have figured out on my own. I highly recommend his services to every man."
Alex M, Arizona November, 2020
Leadership:
Chris is an excellent coach, trainer, and supporter. With his years of expertise in management and leadership he will add incredible value to both individuals and organizations. It was real pleasure to work with him over the years!
Corey Cain, Branch Director at Knowledge First Financial – 2017 Branch Director of the Year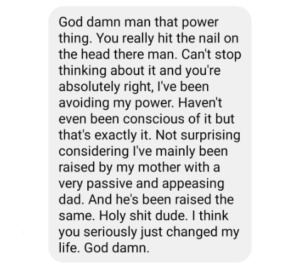 Chris made sure I left our call with something I can immediately apply by helping me reframe a few things I've been insecure about and immediately relieve a lot of self-inflicted pressure. I recommend Chris's guidance for any man looking to improve himself. Ryan W, US
| | |
| --- | --- |
| WHAT CAN YOU TELL OTHERS ABOUT SPEAKING WITH ME? | Chris has great insight into the dynamics of personal motivations and desires. Ian, Japan, Oct, 2018 |
Get the girl!
I am shocked how I've become so attractive to women after having a clear purpose in life, supporting myself financially and following my passion 🙂! Thanks for the help in January with the breakup. I dodged the biggest bullet in my life! – Paul W.
This guy's a genius. Had I known about Wally 2 years ago, I would have turned my life around sooner. He also helped me make sure my balls didn't make their way into my girlfriend's purse. Thank you Chris for a lifetime of advice in one month's counselling. – Derek, Kingston, ON

| | |
| --- | --- |
| WHAT DID YOU LEARN AND HOW WILL YOU APPLY IT? | I've been thinking all wrong. CW opened my eyes to a whole new way of looking at my problem and what he showed me made was very insightful and thought provoking |
| WHAT CAN YOU TELL OTHERS ABOUT SPEAKING WITH ME? | Definitely. You have a different approach and what seems to be a very compelling argument that probably will lead to my success. Bill P, Edmonton, AB |
Chris is very knowledgeable and yet speaks in a down to earth manner without judgement. He doesn't sugar coat anything. He has your health and happiness in mind while speaking the truth. Nate C, USA
WHAT CAN YOU TELL OTHERS ABOUT SPEAKING WITH ME?

As a young man I've never really had strong and assertive male guidance (and I've suffered as a result of it). Wally has this essence of a guy who's seen it all and come out the other side and is willing to share his wisdom and experience. I feel it's quite indispensable especially as a young guy. On my hero's journey I've often wondered where Gandalf is. It turns out I found him although he swears a lot more than I thought Gandalf would (which is fucking awesome).
Oliver, UK Dec/2018
I found Chris to be a big help, with a real process and tools that we used throughout our sessions that I am now using to continue helping myself. We took the time to delve deeper into certain aspects of my personality and my needs, the whole time it was very personal and tailored.

WHAT DID YOU LEARN AND HOW WILL YOU APPLY IT?

I learnt how to look at myself differently, identifying many strengths and how to use them to enhance my life.

WHAT CAN YOU TELL OTHERS ABOUT SPEAKING WITH ME?

I found Chris to be straight forward and honest, never judgmental, and very real in his approach to my specific needs.

Please rate your experience

Jim R., California May, 2019
Speaking:
Our sincerest thanks for joining us last night and for speaking. Your message was very impactful, and brought many to tears hearing the story of Howie's brave journey. He certainly is a little cutie pie, and oh my goodness those beautiful eyes! Taking our donors into your life and hearing what it has been like for you as a family is key to understanding what our work is all about. Thank you for expressing that so well. It was a very successful night for us, and I believe the impact of your story had a lot to do with it. Perhaps letting the Superhero out in all of us helped a little as well. 🙂   – Jane Sleep, Executive Director, Jennifer-Ashleigh Children's Charities.
WHAT CAN YOU TELL OTHERS ABOUT SPEAKING WITH ME?
Masculinity, power, and confidence are not taught to us as boys and young men. This has far-reaching, destructive consequences for men, the women in our lives, our society as a whole, and most importantly our sons. Speaking with Chris marked the next phase in the development of my masculinity, confidence, and creative potential. Along with joining a Men's group the conversation we had has galvanized a deep shift in my psyche, self-understanding, confidence, and power.
The psychological shackles we believe to be our fate, placed on us by our fathers and the men before them, which feel like reinforced steel are in fact self-imposed, rusted, brittle and ready to be broken with the right perspective, guidance, and support. Chris, offers Men this perspective, guidance and support.
The pain stops here.  Zach, New York City, USA Nov/2018
Mentoring:
Chris, was amazing for me. I would not have had as many successes in marketing if it were not for his insight! Matt House, Calgary, AB
If I could have one boss my whole life, I'd pick Wally.  Kiet Ngyuen, Oshawa, ON
Thanks my friend. You taught me so much and I appreciate you never giving up on my young punk ass and always giving me something to drive for. I sincerely think my sales success comes from your teachings. Jon Dalzell, Harley Davison sales, Boston, Mass.
Honestly Christopher, I really value your contribution to my life. You are a tremendous Coach and a super fit. I already see myself shifting mentally. Very cool, have a wonderful day. Simone, Ottawa, ON
Working with Chris was always a pleasure. He would change peoples attitudes with a simple and always interesting conversation. He was a real leader and a friend to everyone!
Sean Smith, Calgary, AB
WHAT CAN YOU TELL OTHERS ABOUT SPEAKING WITH ME?

Your insight and experience, Chris.
Much of the reason I wanted to speak to you was because of your history, your experience, your credibility, and also how you define, recognize and advocate the power of masculinity and the critical role it plays when it comes to men, boys and our society. It's so important, and I would recommend your services to other men in a heart-beat. Thanks so much, brother.  John B. Aus. Jan/2019
Honour thy father:
I was very stuck with my "father issues." This was so deep in me; I felt like I couldn't let go. I could recognize that my father was a good man, but I was hung up on how he failed me as a kid. My love was strongly mixed with hatred and resentment. You asked me about a metaphor. That struck me as a strange question, but I went with it. When I blurted out, "Jack in the Box," and I immediately said no. That didn't make any sense. I had no idea where it had come from. It wasn't a childhood toy that I remember having. But that's not the half of it. But you trusted wherever that voice came from and told me to go with it. Well, long story short: I saw the power in the spring of that clown-like thing as the power of my feelings over my father's negative stuff that would pop up on me. I imagined myself slowly pulling out the spring and releasing all its power. That wasn't enough: I then saw myself planting something in the box.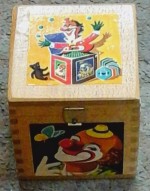 I let go with my father. The tension disappeared. I can openly express my love for him. We've never gotten along better! He sensed this on some level. (I always dreaded some classic idea of writing him a letter detailing his failings.) He just sensed it. He and my mother, in their 70's, decided to pack up and leave their home and the area where they had lived for the last 50+ years of their lives together to move to be closer to me and my family. You were able to help me with a break through that had eluded me for years. I will be forever grateful for the work that we did together. Thank you!
  Sam G, Cleveland, Ohio
Writing
Drinkers' Riddle (2015)
I read your book yesterday. Didn't want to put it down. I've been a pretty active AA member for almost 15 years. I love your voice. You speak to the reader in a manner that is intelligent and warm and personal, which i think is great, and you never ever talk DOWN to the reader (which is something that pisses me off immediately). I really really liked the book and am looking forward to reading it again so I can understand better what you are saying. Good job!!!!!     G.H., North America
Mentoring:
When ppl ask me if I ever had a mentor or someone I learned lots from. I don't fail to mention ur name!! U know about everything and I'm proud to have had ur influence in my life. I never told u bcuz I don't wanna weird u out but I always try to think mmmm what would Wally think or do in this situation? U have been an inspiration thank u.
Robya Rate, Vancouver, B.C. 2018

 ]
CKWallace, Advisor to Men, Counsellor at Large.
Need support? send me a note here today.
CLICK TO ENLARGE